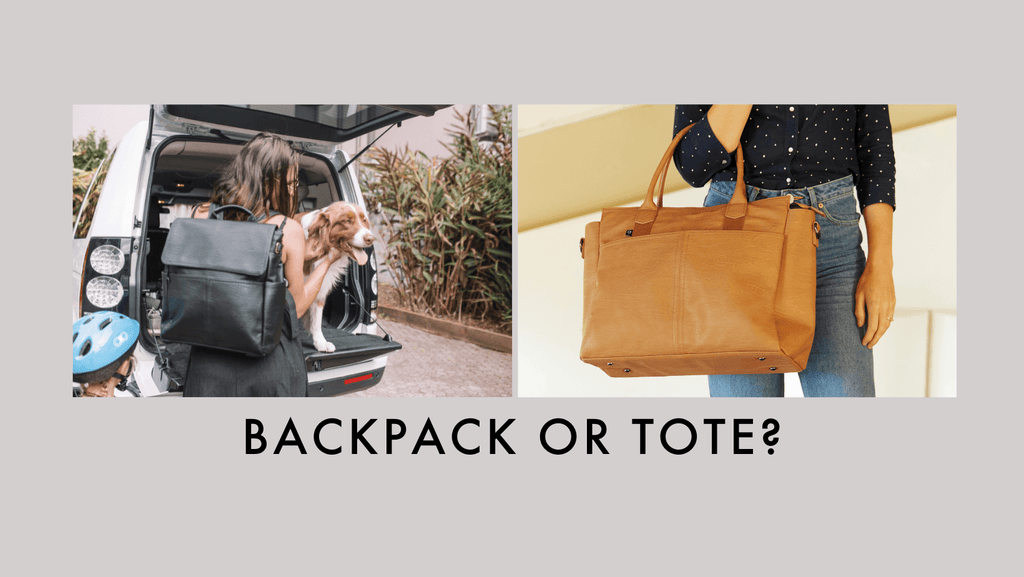 THE HAYES BABY BAG BACKPACK VS. THE HAYES BABY BAG TOTE
It's an age-old argument, which is better for parents, the backpack or tote? That has ultimate style for out-and-about trips with bub.
Before delving in to decide which one is better let's check a few things:
What makes a baby bag a baby bag?
You can call a baby bag the best baby bag if it keeps things organised and simple for you when you step out with your baby. 
What to look for before buying a baby bag?
Does it have a roomy central compartment?
Does it have lots of pockets?
Does it have dedicated pockets for nappies, wipes, and insulated pockets to keep things organised and easy to use?
Is the material easy to wipe or clean?
Is the baby bag fashionable and functional at the same time? Because we carry it everywhere! Park or Party does not matter!
Once you have some answers to these questions you need to then think of what size of baby bag you want to carry. The size of the baby bag depends on your kid's age. Are they newborns or are they toddlers? If you have a toddler you don't have to carry too many things, but you do have to make sure you are carrying enough so going with a small diaper bag is a good thing. With a newborn and since you are a new parent, you tend to carry a lot, so you need a large baby bag.
Do you need a baby bag, or is a regular backpack just as good?
The main difference between baby bags and regular backpacks is that the baby bags are specifically designed to carry the baby and mum essentials and also the baby bags have a lot of storage pockets to keep all things organised and ready to use. Things to keep in mind. Storage, Comfort, and Fashion
Once you bring your baby home from the hospital, and you are ready to get back on the road, you need some or all of these items to carry in your baby bag.
Nappies
Wipes
Nappy rash cream
Changing pad
Extra clothes
Food for baby (bottle, formula, pumped breast milk, baby food, etc.)
Bibs
Burp cloths
Small extra sacks or wet bags (for dirty diapers, clothes, or dummies)
This list is for newborns if you are going out with your toddler you might have to pack a snack or juice box some books etc. and you might not need everything in the above list.
Here are some differences when carrying either style.
If you have a newborn since they have limited mobility carrying The Hayes Baby Bag Tote is a great idea.
If you have a toddler you sure do want to keep your hands free. They are super active, and you will be thankful if you carry The Hayes Baby Bag Backpack. Baby totes tend to slip off your shoulder when you are actively running behind your toddler.
Remember, your baby bag should be designed to be useful and fashionable! Never compromise on these two factors.